Today's Guest Post is from Janna who blogs at  The Adventure of Motherhood , we met at a conference and immediately bonded over our love of activities and linking them to books.
__________________________________________________________________________________________________________
Mountains of toys, video games, movies, and computers were either non-existent in my childhood or almost non-existent. Three of my favorite toys really weren't what most people would consider toys, but they gave me hundreds of hours of enjoyment.
Outside is where I wanted to be. I wanted to be in the dirt, playing with water, or up in a tree.
Dirt
looking for roly polys or "pill bugs"
making mud pies
squishing my toes in mud
digging a hole in an empty lot
burying things
riding my brother's dirt bike
Suggested Book: Jeff Foxworthy's book of poems Dirt on My Shirt
.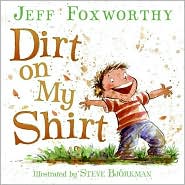 Water
swimming
spraying the hose
the sprinkler
water guns and balloons
dancing in the rain
splashing in puddles
observing earth worms
Suggested Book: Mo Willems Are You Ready to Play Outside? (An Elephant and Piggie Book)
Trees
to hide
to rest
to enjoy the shade
to challenge
to swing from a branch
to pick some fruit
to dream big dreams
Suggested Book: Shel Silverstein's The Giving Tree
When it comes to having fun outside, I still find myself in the dirt, spraying the hose, or attempting to climb a tree. These are three things I intend to share with my daughter, and joys I hope to never outgrow. What things will you never outgrow from your childhood?
If you have children's books that you love and would like to share them with other moms, please consider linking up to my weekly meme called Feed Me Books Friday. It's kind of like an online book club from moms, and a great way to compile a stellar library list.
If you'd like to learn about a project to record the stories of  YOUR youth join me at MommysPiggyTALES.com.
Today's guest post is from Valerie  the author of Frugal Family Fun Blog where  she writes daily about her obsession with inexpensive crafts, family activities, and all around good times on a budget! For the past couple of years, her family has rented a 600 square foot garden plot from her township that proved to be an endless source of learning opportunities for her daughter Emily.
_______________________________________________________________

Getting Started In early Spring, we had lots of fun starting seeds indoors! This helped to give Emily an appreciation for how long it takes plants to grow. She took very good care of her seedlings.
Next, we planted seeds and transfered some of the seedlings over to the garden plot. We found it helpful to have a kid-friendly garden layout, so as to avoid any little feet accidently squashing plants. Some good options include: raised beds, container gardening, or going with a square foot garden layout.
Kid-Friendly Garden Ideas
1. Raised Beds
2. Container Gardening
3. Square Foot Garden Layout
We chose to go with a square foot layout, which gave us plenty of vegetables and was a clear way for Emily to navigate her way around the garden without fear of stepping on any of the seedlings.
To be even more kid-friendly, we even gave Emily her very own space within our lot where she could grow whatever vegetables or flowers she wanted. She chose lots of broccoli, tomatoes, lettuce, and marigolds!
If possible, give your child his/her own special garden space!
Ten Gardening Chores Kids Can Do:
Planting Seeds
Making Seed Markers
Watering Plants
Weeding (with supervision)
Harvesting Vegetables
Loosening Soil
Laying Down Straw
Decorating the Garden (handmade mobiles, pinwheels, banners, etc.)
Picking off bugs.
Collecting Seeds for Next Year's Garden
Garden Themed Books! Of course, we took advantage of our local public library as much as possible over the course of the Summer. Our favorite "garden" reads are The Carrot Seed by Ruth Krauss….
….and Seeds! Seeds! Seeds! by Nancy Elizabeth Wallace.
Garden Crafts!
Some of our favorite garden activities were making garden stones using quick dry cement, an empty cereal box for a mold, and decorating with glass gems and sea shells…..
….and decorating a photo frame with dried beans (which Emily learned are also seeds). There are many more gardening craft ideas on Frugal Family Fun Blog too!
With lots of hard work, our garden was in full bloom!
Gardening is one of the best ways for kids to learn about where their food comes from, basic plant biology, and exposes kids to nature. As an added bonus, we saved lots of money by growing our own organic vegetables! I made a fun garden goody bag for Emily to harvest her vegetables in, and it was a great hit! I love to share good things, so I thought you might like one too!
Now the fun part — One lucky reader will win a personalized garden goody bag, similar to the one shown above! To enter, leave a comment on this post and be sure to leave your email address in the comments field. Giveaway is open to all US and Canadian residents. Winner will be chosen by random.org and giveaway ends Saturday, June 19th @ 6:30PM EST.
Good luck!!
Congrats Luna!!  You Won. Check your email !

Today's post is from contributing writer Katy Bird, who reminds us just how simple it can be to explore science and  the natural world around us.  Get some fresh air, and explore with your child, even if your adventure goes no further than your own backyard.
______________________________________________________________________________________________________________________________

We were recently studying plants and so we decided to make a leaf scrapbook.  This activity was a huge hit and I think it could be adapted for children of almost any ability level.
First you take a walk–we just went around the yard, but you could go further if you need/want to.
Collect leaves–try to collect leaves from plants that you recognize.  This was pretty easy for us since my husband is a gardening nut, but you can always do a little online research if you needed.
Create a Leaf Scrapbook.  Paste a leaf on each page of your scrapbook and then label each with its name.
Allow your child to do as much of the creating as they are capable. Take time to go over your scrapbook with your child–talk about color, size, and texture.
I ended up laminating Charlie's cards because he LOVES to put things in his mouth and I was afraid he might eat one of the leaves!  This could work just as well with note cards or heavy paper.  I especially like this activity because it gets kids started on the basics of science in a way that is fun and interactive.
You could do this activity with flowers as well.
________________________________________________________________________________________________________________________________
Katy is a mom of one who loves art, mystery novels, and anything involving peanut butter–she blogs about raising her little miracle at
Bird on the Street.
With Earth Day coming and spring warming us up and taking learning outside I have collected some of our favorite nature crafts and activities ! If you remember how your perspective changed when your teacher decided to take your class outside you don't need to be told how such a simple act can open up young minds to learning.
Giant Sunflower Craft ( above)
Looking for Earth Day Activities?
Spring is finally here!  I love spring and everything it brings from baby birds, to flowers and especially Easter candy. This sensory tub was a huge hit with my son and we have been chilling outside digging in it , filling the eggs with the birdseed and bugs and not worrying about it spilling on the kitchen floor.
Gather your materials. You will need a plastic tub or large casserole dish, some birdseed, kid garden utensils, some Easter eggs, plastic bugs, and flower sequins.
Pour your birdseed into the tub.
Add your bugs, shovels and sequins.

Add your little gardener and have fun.
Garden Books
Quiet in the Garden
by Alki is a calm book about listening and watching all the bugs, birds and animals going about their day in a not so quiet garden. Starting with a hungry robin readers watch as all the animals take turns eating and asking others about what they eat. Finally the little boy who is watching all the bugs and animals eat picks some vegetables and fruits from the garden and sits down to have a picnic.  I liked how this book showed how all these animals and bugs thrive within a garden, and how you can hear all the noise if you just sit still and listen.
Jack's Garden
by Henry Cole is a garden version of the classic " The House That Jack Built". We watch as Jack prepares, plants and cares for a garden. I like the detail that the book goes into from the worms in the soil, to the seedlings, birds, flowers and insects that all work together for a garden to succeed. My son loved that Jack seemed to be a teenager, not sure where he got the idea but teenagers are the height of cool for my 3 year old. I also really appreciated the detailed drawings of things along the edges of each page, from slug eggs, to specific insects and different flowers, they all offered more learning while reading.
Song of the Flowers
by Takayo Noda is beautiful, bright and the three times I tried reading it with my son he declared " I don't like this book!" . The text is very figurative, it reads like a lullaby and for my literal preschooler it just didn't hold his attention. The text is actually very repetitive which is normally a huge hit with my son as well as other children his age but it simply didn't cut it. The illustrations are paper cut outs and are stunning! Grab this book and have a look for yourself, but I can't recommend it since it was such a flop at my house.
You May Also Like :
Newspaper Flowers
Nature Color Match
Sensory Tub : Coffee Grinds