Christmas

Island Style
I don't know about you , but we are in need of a little island get away, a real trip isn't in the cards but at art time today we decided to make a little Hawaiian themed Christmas tree to transport us to a place a little warmer and a tad bit more exotic. Don't be fooled by how cute this craft is, it's also got a few great lessons hidden in it too. The sand and pom poms offer fun sensory discovery to make this a really worthwhile island getaway!
Gather your materials. You will need 3 pieces of construction paper ( 2 light, 1 of any color you want), green and brown paint, some pom poms, glue, some sparkly ribbon, scissors, a marker and sand.
Start by drawing the outline of a palm tree trunk.
Now draw the leaves.
Make a large dot of glue for each pom pom, I ended up adding more later .
Add the pom poms. Let dry.
Cut out the trunk and glue it on the 3rd piece of paper.
Add a whole bunch of glue to the base of the truck and all around the bottom of the paper.
Add the sand, if you don't have ( or don't want) loose sand try a piece of sandpaper cut to size. Let dry.
Cut 2 small pieces of sparkly ribbon
Glue them to the truck to make garland. At this point my son was knee deep in sand and had no interest in glue, so if I were you I would do this step before the sand.
Cut out the leaves , glue on the trunk.
Maliki Liki Maka !
More Island Cheer !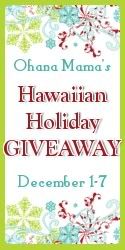 From the very start Sarah over at
Ohana Mama
has been a huge cheerleader for us, and I can't just ignore the amazing things going on over at her little bit of paradise . I don't know if you heard but they are giving away an
Ergo
baby carrier , and lots of other great things! I love my Ergo and my son who is 2 still jumps in it, most recently at a failed attempt to see the mall Santa, my son was happy to be tightly snuggled next to mom and not in that bad man's lap. Her

Hawaiian Holiday Giveaway

is almost over so jump in and win that Ergo !