Today's Guest Post is from Janna who blogs at  The Adventure of Motherhood , we met at a conference and immediately bonded over our love of activities and linking them to books.
__________________________________________________________________________________________________________
Mountains of toys, video games, movies, and computers were either non-existent in my childhood or almost non-existent. Three of my favorite toys really weren't what most people would consider toys, but they gave me hundreds of hours of enjoyment.
Outside is where I wanted to be. I wanted to be in the dirt, playing with water, or up in a tree.
Dirt
looking for roly polys or "pill bugs"
making mud pies
squishing my toes in mud
digging a hole in an empty lot
burying things
riding my brother's dirt bike
Suggested Book: Jeff Foxworthy's book of poems Dirt on My Shirt
.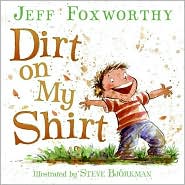 Water
swimming
spraying the hose
the sprinkler
water guns and balloons
dancing in the rain
splashing in puddles
observing earth worms
Suggested Book: Mo Willems Are You Ready to Play Outside? (An Elephant and Piggie Book)
Trees
to hide
to rest
to enjoy the shade
to challenge
to swing from a branch
to pick some fruit
to dream big dreams
Suggested Book: Shel Silverstein's The Giving Tree
When it comes to having fun outside, I still find myself in the dirt, spraying the hose, or attempting to climb a tree. These are three things I intend to share with my daughter, and joys I hope to never outgrow. What things will you never outgrow from your childhood?
If you have children's books that you love and would like to share them with other moms, please consider linking up to my weekly meme called Feed Me Books Friday. It's kind of like an online book club from moms, and a great way to compile a stellar library list.
If you'd like to learn about a project to record the stories of  YOUR youth join me at MommysPiggyTALES.com.