You may have noticed I have never done a Groundhog Day post before. I forget about it every year. This year I remembered the books but our schedule was packed and a craft wasn't in the cards. I will not force my son to do them and unless it was something I could do from a car in a ferry line up it simply wasn't happening. Although that might make for an interesting post some day. Instead yesterday we had a wonderful playdate with dear friends and today I am linking to some great Groundhog Day crafts from other blogs to go with my books we read .
Groundhog Day Craft Links
I love this toilet paper roll Groundhog Day craft from Momstown

Preschool Playbook is a favorite blog of mine and she has many great ideas but this is my favorite . Check it out!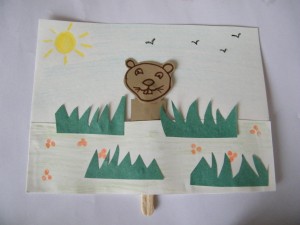 Another similar craft comes from Artists Helping Children
I just saw this one this morning – from Oopsey Daisy
Another similar one comes from Scribble n' Splatter
Books
Brownie Groundhog and the February Fox
by Susan Blackaby is a brand new book that was sent to me by the publisher to review. Although it's a new release the art work by Carmen Segovia takes readers back to the 40s with the rich shades of blue, red and brown used. The story itself is sweet and although my son was a little worried that the fox was going to eat the groundhog it became obvious early on that the groundhog would find a way to outsmart the fox. Not only did the groundhog out smart the fox but they found a solution to both their problems without anyone getting eaten. Good book to talk about compromise and problem solving with young kids.
Groundhog Gets a Say
by Pamela Curtis Swallow is such a great book about groundhogs , I can't tell you how much I didn't even know I didn't know about the rodent.  Did you know they can run as fast as an average 4th grader? Yeah me neither.  The story itself is all about how the groundhog is sad that his holiday is only one day and no one seems to care about all the other great things about him beyond his shadow.  The book is long and honestly my son got fidgety but it's the type of book that you can skip a page here or there and it won't ruin the experience.  I admit I think groundhogs are pretty cool after reading this book.