Please welcome Dr. Erica from Rosie Research – today she is sharing some fantastic STEM ideas perfect for Thanksgiving Day.
Can you believe it is Turkey time already? Thanksgiving is my absolute favorite holiday. It's the only time of year that our whole family gets together without the presents agenda. We get to eat our fill of delicious food and roll ourselves away with tons of leftovers, I mean, whats not to love? Well, I can think of one thing – bored kids begging for attention while I try and baste, bake, and chop my way to dinner.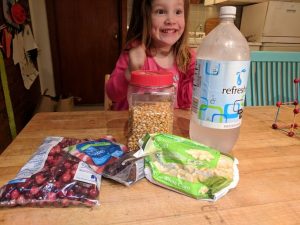 This year I have a plan though – I am going to set them up with science. Tons of science. I already tested the projects on my kids a couple of weeks ago, and each one kept them happily busy for about a half an hour. My preschooler was a huge fan of the dancing corn, huge. I mean, just look at that face! She was really into mixing things and watching the corn go up and down. We started with carbonated water and moved to adding baking soda and vinegar for even more bubbles. I really think the addition was more about mixing and seeing reactions than anything. We did get some cool questions though, like why do dried cranberries dance but regular cranberries just float? Or why do popcorn kernels dance while frozen corn is the wallflower? It gave me the chance to talk about air bubbles, density, and buoyancy, all of which I wrote down so any parent can explain it to their kid if the questions come up!
My second grader had fun with the dancing corn, but really loved the cranberry toothpick engineering. This kept both of them busy for a while, my older daughter made a ship using the cranberries and toothpicks as the structure and wrapping it in foil – let me tell you, nothing keeps a kid busy like playing in the kitchen sink with a boat you just created! We also wrote secret spy messages in baking soda and water to be revealed by spraying cranberry juice over it. My kids were gobsmacked that they used these methods in the revolutionary war, which to them is beyond forever ago.
The tastiest science project we did was calibrating our oven using sugar, which makes tasty sugar glass! I wrote out all of the science to the projects so you can go in sounding like a pro. Seriously, you can be the parent who has their kids engaged in science while you cook and sound like a genius – "oh, and did you know the sugar isn't melting?!?"
If you are looking for some fun kids science to keep the kids busy while you are cooking away definitely check out our 5 cool Thanksgiving STEM ideas, all of which are well researched and a ton of fun!
ᐧ